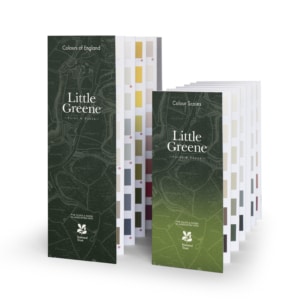 AVACE has added the Little Greene Colours of England to its product range, 20kg of Architectural Polyester Powder can be colour matched, manufactured and delivered in five days in any gloss level. We now make all the Little Greene Paints in their complete range of Decorative Paints including Absolute Matt Emulsion, Intelligent Masonry Paint, Intelligent Matt and Intelligent Satinwood. You can view the colour palettes, request complimentary colour cards, order sample pots (60ml) or your pain requirements here. Architects and Interior Designers can now specify inspiring colour combinations with Little Greene Colours on your architectural aluminium coordinated with Little Greene finishes on your interior and exterior walls and woodwork. AVACE has opened a new Little Greene Showroom at Brierley Hill all interior designers are welcome to utilise the facility, you can read more here.
The Little Greene Paint combined colour portfolio is available in an extensive range of interior and exterior finishes. The signature range Intelligent Paints are hard wearing, especially designed for walls and ceilings in todays busy homes. All Intelligent Paints are Odour free, durable and completely washable finishes. Intelligent Matt Emulsion is a hard wearing, fast drying, washable finish designed for walls in high traffic areas including hallways, kitchens, playrooms and open plan living spaces. It is 15 times tougher than ordinary matt emulsions. Child safe, stain resistant and odourless. For easy clean interior woodwork Intelligent Satinwood and Eggshell Traditional Paints are renowned  for their sumptuous depth of colour, discernible flatness and ease of application.
Absolute Matt Emulsion is the classic, chalky flat finish for interior walls and ceilings. A wipeable Child Safe Dead Matt finish recommended for walls and ceilings, suitable for lime plaster and over lining paper. The high pigment concentration produces a rich depth of colour in just two coats.
For exterior walls Intelligent Masonry brings beautiful colour and 15 years protection to all brickwork, stone or rendered wall. Fast drying and easy to apply it inhibits mould and algae growth.
Order your Little Greene Paint here.