AVACE is a leading manufacturer of high-performance paints and powder coatings. We are committed to producing sustainable coatings meeting the highest environmental standards, with low VOCs, no heavy metals and minimal waste. AVACE is an Ambassador for the West Midlands Net Zero Business Pledge. Our paint and powder products meet internationally recognised quality standards, manufactured in efficient facilities with a commitment to continuous improvement, utilising lean methodology to streamline processes, increase productivity, reduce waste and improve service levels for our customers.
AVACE stocks every RAL Classic colour and many British Standard colours in gloss, semi gloss and matt Architectural polyester, meeting the requirements of BS EN 12206 for Aluminium and BS EN 13438 for galvanised steel. Many of these colours are available in Minipacks of 1kg, 5kg and 10kg as well as full cartons. The stock range also includes Zinc Rich epoxy primers, Metallics, Chromes, Textures and other specialty finishes, contact our customer service team at sales@avace.co.uk for information on price and availability.

Our fast-track colour matching service enables AVACE to match any colour standard in seven days, including RAL Design, RAL Effect, NCS, Pantone, Munsell, British Standards, Little Greene, Dulux, Farrow & Ball. The small batch, fast track, make to order service, with a minimum order quantity of 20kg, includes free delivery to any location in the UK (Excludes some regions in the Highlands and Islands.) Timed deliveries are available on request. All our powder products can be  colour matched in liquid paints supplied in aerosols 440ml, litre cans or brush pots for site rectification work should this be required. AVACE manufactures an extensive range of paints for Commercial Buildings, including Intumescent Fire Protection Paints, Flooring, Masonry, Air Quality Paints, Cladding and Roof Products. For residential buildings and Home Improvement we manufacture leading decorative brands Little Greene, Bradite and Graphenstone Carbon Capture Natural Breathable Paints.
Our classic road freight express service offers a fast delivery service to over 30 countries throughout Europe. Air freight service is available to Dubai, the Middle East and other countries outside Europe. See our table of rates for information on delivery and price. For pallet quantities please contact sales@avace.co.uk with your delivery destination, order size and product requirements, our customer service team will provide shipping costs via sea freight and delivery times. The rates are competitively priced by sea however delivery will take longer.
Powder can be ordered online in the UK and through our international sales channels in France www.avacecolours.com/fr and Spain www.avacecolours.com/es where payments can be made in Euros using credit cards or International BACS transfer. Custom clearance, VAT regulations and requirements will vary from country to country. View our home page for more information.
The ability to match any colour in architectural polyester powder has unlocked a World of Colour for architects, specifiers and interior designers. Aluminium fabrications, cladding, louvres, sunscreens,curtain walling and facades can now be designed in an unlimited choice of colour in NCS, RAL Design or Pantone shades.Architects are no longer limited to the RAL Classic range which has been the dominant colour range since the 1970s and a limiting factor in desighn creativity.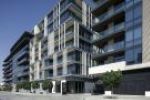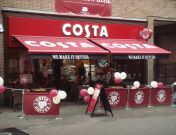 Interior designers are selecting from the NCS and RAL Design range to create colourful, alluring, imaginative and vibrant interiors for hotels, restaurants and designer retail outlets. Creating a positive experience for their customers, increasing footfall   and ultimately growing margins. Supermarkets like Morrisons, Carrefour, Waitrose and Choitrams have created unique stores   and departments to replicate traditional market atmospheres , identifying each outlet by RAL Design or NCS Colour to   differentiate between brands. Banks and other high street franchises such as Costa Coffee use Pantone colours for brand   recognition on signage and shopfronts to create awareness and build customer loyalty.
Our Powder Coatings range is complimented with a comprehensive range of Protective and Decorative Coatings for commercial and residential buildings. All our powder products can be colour matched in aerosols and touch up paints for site rectification work.
AVACE manufactures leading brands such as Jotun, Bradite, Little Greene, RD Coatings, Selemix PPG and Graphenstone Paints. Our focus is the continued development of water-based technologies to reduce VOC emissions and help our customers achieve net zero by 2030. All new technology is now water based low odour paints meeting the requirements of BREEAM, WELL and LEED and other environmental regulations. They are manufactured in house in an extensive range of high design colours, for express delivery throughout the UK.
For those customers that seek value, we will deliver a unique experience by combining a consultative relationship with experience and knowledge. Delivering competitively positioned high quality performance paint and powder products for Architectural Aluminium, HVAC, Shopfitting and Retail.